Find The All-New 2019 Jeep Cherokee at The Chicago Auto Show!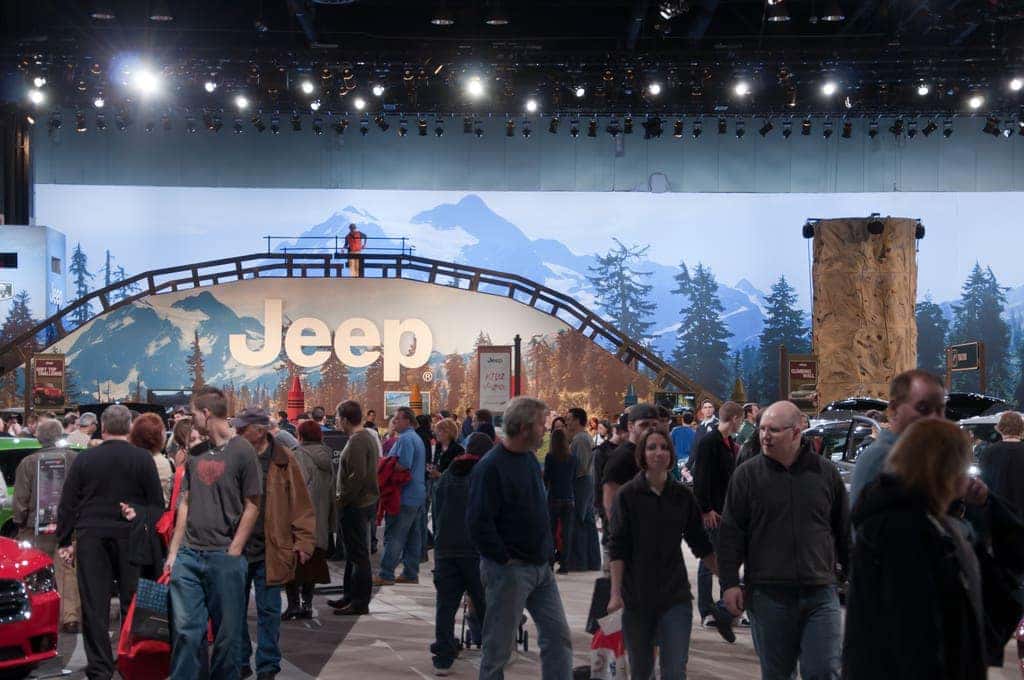 The 2018 Chicago Auto Show is finally here and you can check out the all-new 2019 Jeep Cherokee makes its grand debut this year. This is one show not to miss, as there are events for the whole family. You and your fellow Jeep enthusiasts can check out every detail about the latest model, while your kids can climb in and pretend to drive. You can even access Camp Jeep and take your experience to the next level! There is also a robust children's area, draws for swag and gifts, and all the information about the new 2019 Jeep Cherokee you want to know.
About the New 2019 Jeep Cherokee
With three engine choices, six trim options, amazing safety features, and a sleek exterior, the all-new Jeep Cherokee is one of the biggest draws to this car show. You can examine the powerful new 2.0L turbo I-4 engine that has all the power of a V6 but has the fuel efficiency of a 4-cylinder, an exciting new development that delivers 270 horsepower, surpassing the 2018 Honda CRV by far!
Consumers are also eager to check out the beautiful new interior options, which come fully loaded with premium materials, even more cargo room, rear liftgate, chrome accents, and an impressive lineup of infotainment systems.
Not content with just offering drivers the best in appearance and navigation, the 2019 Jeep Cherokee also offers numerous safety features. You and your family can feel safe on the road and off with these impressive improvements. Come down to the car show and check out the available features such as blind spot monitoring, lane departure warnings, collision warnings and rear cross path detection. If a collision occurs, Jeep keeps you safe with driver and passenger side knee-level and side-curtain airbags.
Experience Camp Jeep
No trip to the Chicago Auto Show is complete without an adventure at Camp Jeep! This interactive off-road ride can show you just how Jeeps can conquer boulders, stairs, rough terrain and more. Get your friends or family together and jump into the driver seat at this 24,00 sq. ft. exhibit. You can experience this exciting attraction February 10th through the 19th.
Information About the Chicago Auto Show
This is the car show not to miss. Not only can you see a ton of new vehicles make their debut, the tickets are affordable for the whole family. Adults can get in for just $13 each, with tickets for seniors and children between 7 and 12 available for only $7. Children under six gain entry for free. The Chicago Auto Show also hosts several food vendors, giving you the chance to spend the whole day taking in the sites. Guests coming in from out of town can find a place to stay by checking into one of the show's official hotels.
Visitors do not need to stress about parking either. The car show runs a free shuttle to and from the Millennium Garages, where parking is available for only $18. You can also arrive by train or by one of the special auto show busses in operation. The show is open to guests from 10 am to 10 pm and encourages all types of photography. If you are a car enthusiast, you cannot miss out on your chance to see the all-new 2019 Jeep Cherokee make its debut, so be sure you get a ticket today.
Ask about our special $1,000 auto show bonus cash offer on select 2018 Ram, Cherokee, Journey, and Pacifica models!
Can't make it to the show? Head out to our showroom to check out our existing vehicles in stock, comprare the Cherokee to competitors like the Chevy Equinox, or give us a call today Whether you're looking to upgrade your ride or add one to the family, we've got the right vehicle for you, we're more than happy to help our Chesterton and Portage, IN customers!
More on the Jeep Cherokee
Why do critics and compact SUV shoppers alive love the 2019 Jeep Cherokee so much that U.S. News and World Report put it in the top 15 of its ranking in the category? Many have picked the new Jeep Cherokee for sale in Chesterton as their vehicle of choice because of all the feature choices…

Step inside the 2019 Jeep Cherokee interior to experience the perfect blend of form and functionality. The Cherokee has gained adoring fans for its rugged refinement, and the 2019 model is no exception. From cutting-edge technology features to ample cargo and passenger space, the Jeep Cherokee has it all for drivers in the Valparaiso area….

The 2018 Chicago Auto Show is finally here and you can check out the all-new 2019 Jeep Cherokee makes its grand debut this year. This is one show not to miss, as there are events for the whole family. You and your fellow Jeep enthusiasts can check out every detail about the latest model, while…